Everyone has heard of the expression: "a stitch in time saves nine." It is a perfect description of home upkeep. If you follow the seasons and do the necessary maintenance according to their natural arc, you will be able to keep ahead of the small chores and end up having a house that runs like clockwork.
This makes sense because your home in one of the most important investments you will ever make. Here is a list of things to do around your house on an annual basis.
Spring Garden Cleanup
It's fulfilling work clearing out the closets when you begin packing away the winter clothing. Don't just stop there. Start clearing your yard by raking up any stray fall leaves and using them to mulch your flower beds. If you prefer using a lawn care service, now is the time to renew your contract.
Have your trees inspected by a qualified arborist. They will double check for any overhanging branches and dead wood. It's too late at this point to begin planting spring bulbs, but you can start to plant seedlings for summer. They will grow quickly into beautiful blooms.
House Exterior
Walk around the outer perimeter of your home to check for signs of cracks, holes, and staining. Use a ladder to get up and have a good look at the roof. If the statistics released in 2018 for ladder-related injuries are a reason for concern (over 500,000 cases reported), then consider hiring one of many expert roofing contractors in the area to do this difficult task for you.
Cleaning out your gutters in spring and late fall will stop them from clogging and leaking water into your house. If you see signs of roof deterioration, call a qualified roofer to fix it before the rains and winds make more expensive repairs necessary.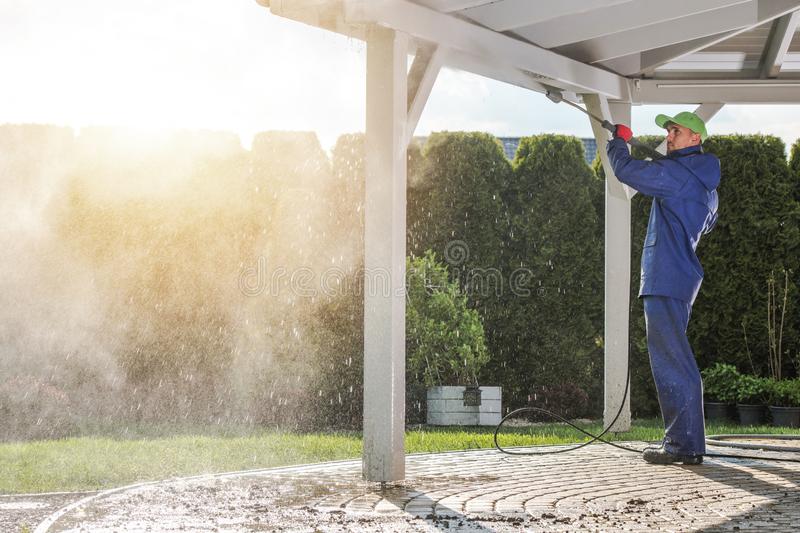 Paint And Patio
If you see signs of staining on the walls around the perimeter or on your home, get your hose out of storage and get rid of them before the summer sun rays bake them in further. When grit is stuck to the façade of your house, it can damage the paint and cause cracks to form. Remember to cover the ground and surrounding foliage with protective sheeting carefully.
When your deck or patio has a layer of winter debris over it, you will have to get rid of it before the demands of summer entertaining begin. The best way to clean build up on your patio or home's exterior is to wet it with water from the hose and then use a gentle cleaning solution to scrub it down with a broom. Afterward, rinse it down with the hose again.
You can also use this time to treat a wooden deck for algae and wood rot. Make sure the wood is completely dry before you start doing this, so you might have to wait for the spring rains to stop a while. When the wood has been treated, wait a few days before you stain the wood and seal it.
This routine home maintenance checklist will keep your home looking good all year round.